Are you ready for a miracle in your wealth space?
21 Day Accelerate Wealth From the Inside Out Program
Wealth Programs and Seminars
Accelerate Wealth from the Inside Out
In 21 Days You Can Completely Transform Your Relationship With Money And Attract Abundant Wealth.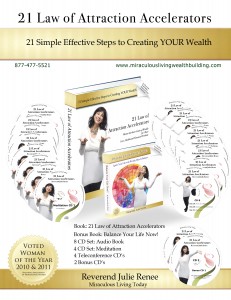 The Fast Activation Home Study Program is a powerful system to magnify your ability to attract wealth. Learn how to meditate properly though guided imagery for the best year of your life.
Using my rapid results techniques and easy-to-follow fast action guide you'll discover the simple steps that have already helped thousands magnetize wealth in all areas of life!


Accelerate Wealth One Day Seminar
Use Julie Renee's "123 Wealth Acceleration" techniques to Escalate Your Wealth right now.  In just one day, she will support you in reprogramming your wealth beliefs so you can start creating real money now.
Learn Julie Renee's Secret Inside Out techniques and turn yourself into an immediate wealth magnet.  This year, April 20, 2013

Accelerate Wealth Teleconference
Are you stressed about money?
Do you feel anxious about your financial future
It can be frustrating to work so hard and not achieve the financial results you desire. You may feel as if there is no end to the struggle, and that you're destined to work endless hours and still not afford the basics in life.  Free Intro Call for 2013: March 20.  Four week teleconference begins March 26.


See what clients are saying about Julie Renee:
"Clients have been generating with ease…"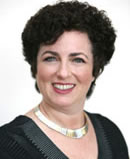 "Clients have been generating with ease, effortlessly… seemingly magically. My phone is ringing, I'm receiving checks and commissions in the mail and my money is multiplying literally overnight. Clients are calling who are ready now, who perhaps I talked with a year ago. I just got offered a cruise also! I'm noticing ease and grace in my life, bigger acknowledgements on stage and new opportunities. And I give credit to the 21-day program to help me get grounded in my wealth."
Jill Lublin, speaker and author
I feel I need to pinch myself for all the good that I was able to create….

"I just completed my 21-day program and I feel I need to pinch myself for all the good that I was able to create. I feel in my flow rather than pushing. My life feels in expansion! I thank you for these new tools!"
Lorraine Francis, founder of beinglorraine.com